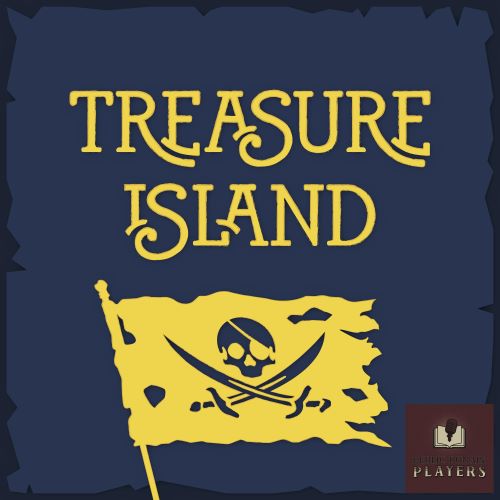 With danger quickly rising to the surface, the Hispaniola's arrival at Treasure Island is now fraught with peril, and Jim finds himself face to face with a stranger...
Treasure Island  is adapted from the original novel by Robert Louis Stevenson. Written and directed by James Weippert. 
Treasure Island is produced by James Weippert and David Coonan.
The cast, in order of appearance:
Larry Oblander as Adult Jim (larryoblander.com, Twitter/Instagram: @larryoblander) 
Conrad Bear as Captain Smollett (ConradBear.com)  
Jerry Schultz as Long John Silver (jerryschultzvoiceactor.com)  
Caroline Hertz as Arrow (CarolineHertz.com, Instagram: Hertz_sogood) 
The Pirate Crew was voiced by William Barretto  (Twitter: @TrueWillBarreto, Instagram: @will_barreto_experience), Joe Azzari  (Twitter: @voicesbyjoe, Instagram: @voicesbyjoe), Emily Buza  (Twitter: @emilyofarden), Tim Simpson, and Michelle Stahl. 
Tiffany Renee Bear as Dr. Livesey (TiffanyReneeBear.com, Instagram: @tiffanyreneebear)   
Michael Curry as Squire Trelawney  
Kyra McFarland as Young Jim (kyramcfarland.com, Twitter/Instagram: @kfmcf)  
Austin Schumacher as Black Dog (Instagram: @awesome_schu)
Cormac Joyce as Ben Gunn (CormacJoyce.com, Instagram: @cormacajoyce)
You can find PDP on Twitter at @PublicPlayers and on Instagram at PublicDomainPlayers.  
Both the Treasure Island and Public Domain Players logos were created by Bad Otter Design House, who you can find on Instagram at bad.otter. 
You can support PDP on Patreon at Patreon.com/PublicDomainPlayers.
There were two songs used in this episode, both created by Kevin MacLeod and used under a Creative Commons license:
Achaidh Cheide by Kevin MacLeod
Link: https://incompetech.filmmusic.io/song/3338-achaidh-cheide
License: http://creativecommons.org/licenses/by/4.0/
Celtic Impulse by Kevin MacLeod
Link: https://incompetech.filmmusic.io/song/3484-celtic-impulse
License: http://creativecommons.org/licenses/by/4.0/